Certificate Lifecycle Management (CLM)
ACEx – Application for easy certificate renewal
With ACEx (Authentication Certificate Exchange), your users will never have their issued certificates expire again. This module checks their status in real time and automatically prompts users to renew expiring certificates. Thanks to the module, the user can then easily renew them himself.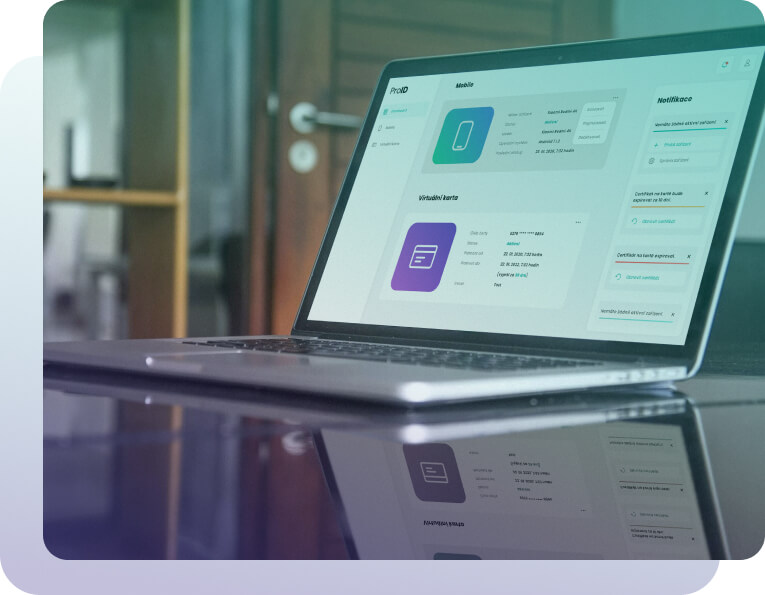 User certificate management module
Easy user renewal of expiring certificates
Imagine an organization with hundreds of employees. Each employee has assigned permissions (certificates) that allow them to perform defined actions (sign documents, log into the systems, etc.). However, the certificates have a limited time validity and when they expire, the permissions are revoked. If he does not renew them in time, he cannot do his job. To eliminate this problem, we created the ACEx module.
What problems have we developed the module to solve?
The certificate renewal process is too complex and time consuming for ordinary users.
It is unrealistic for IT administrators of organizations to perform these operations for individual users – they risk being overwhelmed only by this routine activity.
It is then difficult for everyone to determine which certificates are at risk of expiration and should be renewed.
The procedure for renewing individual certificates can vary and be complicated even for the infrastructure administrators themselves.
The ACEx module automates all these activities, saving a huge amount of time in certificate lifecycle management.
Basic tasks of the ACEx application
ACEx is a simple graphical guide to the certificate renewal process, designed for ordinary users ( officials, doctors…).
It regularly checks the certificates on the smart card and, if necessary, automatically prompts the user to update the certificates.
It manages the update process and guides the user through the whole process.
In case of unnecessary (e.g. expired) certificates stored on the smart card, ACEx will take care of their removal.
Organizations that use the MS Windows Server Domain Certification Authority can also use ACEx to issue initial certificates.
Simple certificate renewal by the user
ACEx is designed to allow any user to renew their certificates themselves. Simply and without any deep IT knowledge. He just needs to follow the simple instructions that the module will show him in case he discovers an expired certificate.
The application starts automatically in the background when the computer is switched on. The user is completely oblivious to its operation. Only if an expiring certificate is detected, the user is shown the necessary information and then guided through the renewal process.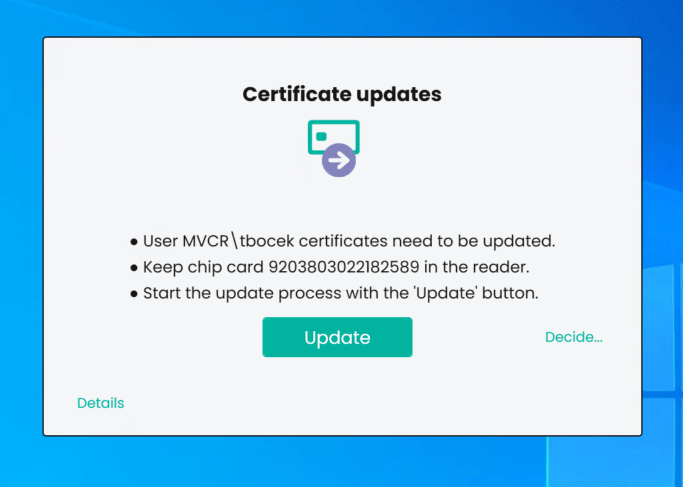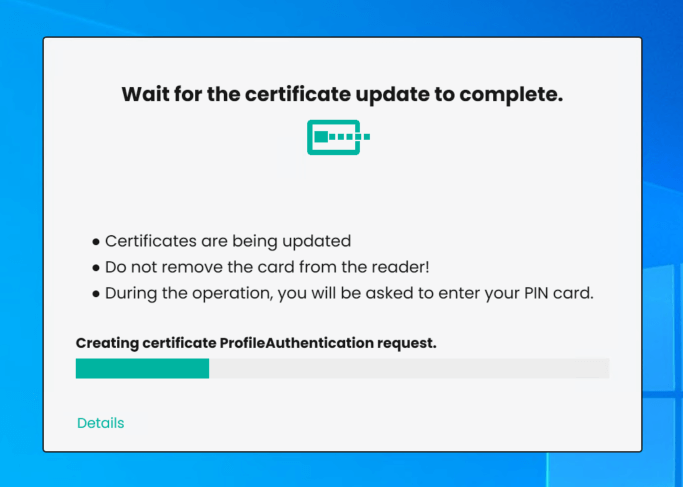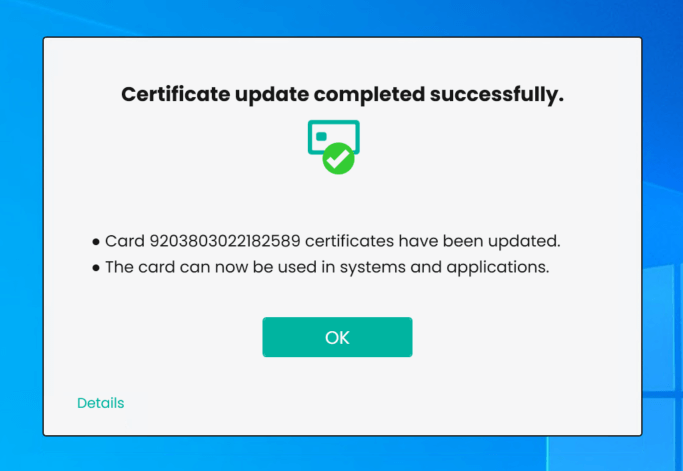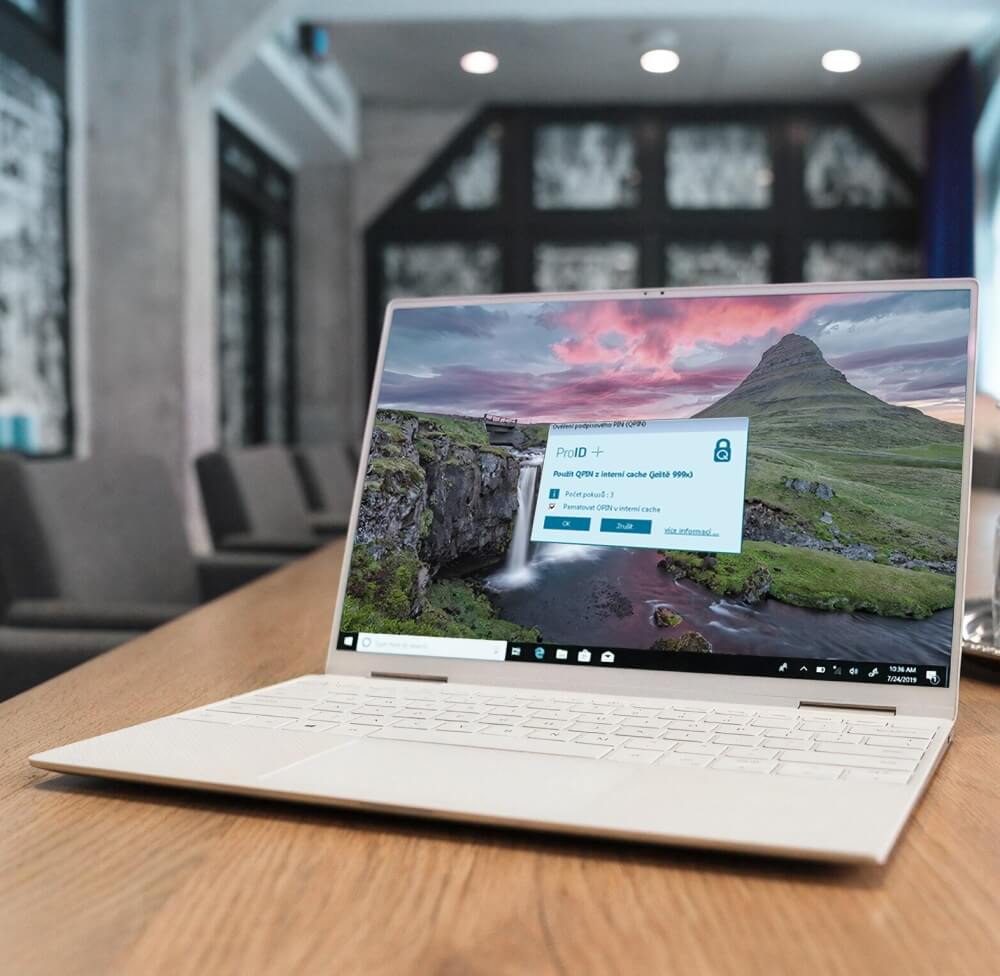 What certificates does ACEx support?
Domain Certification Authorities on the MS Windows Server platform
The eIdentity CA (To renew a qualified certificate using ACEx, the user must have both a qualified and a commercial certificate stored on their card.)
PostSignum Certification Authority
Are you interested in our solution? Contact us